Motorcycle accidents are, in some ways, no different from other auto accidents.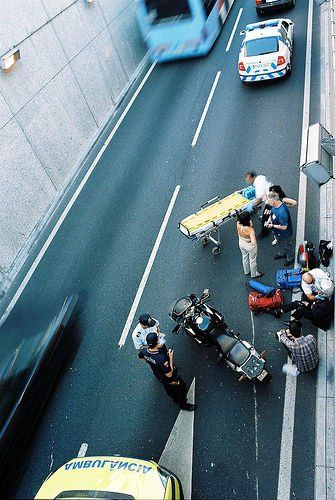 One major difference is that the driver of a motorcycle is more exposed. Consequently, the injuries sustained in a motorcycle accident may range from minor to critical, depending on the severity of the crash. While minor injuries may take only weeks to recover from, serious long-term injuries have the potential to alter a persons life, possibly leading to years of medical treatments and lost wages.
If you are involved in a motorcycle accident and you find that the other insurance company is not providing you with the appropriate compensation, your next move will likely be to file a law suit. What should you do to prepare yourself for this course of action?
Scene of the Accident
Immediately following an accident, make sure to protect yourself and others by removing your bike from the roadway, if possible, to prevent further collisions. Also take pictures of damages from all angles to document evidence.
Following an accident, make sure you take down the license plate number of the vehicle that hit you, name of the driver, their phone number, and the names and phone numbers of possible witnesses. In addition, contact the local police department to file an accident report.
Read more: What To Do After A Car Accident
After Leaving the Scene
While it is important to work with your and the other driver's insurance company, do not feel pressured to settle for the amount offered. If you find that your wages are decreasing and medical bills are piling up, a motorcycle accident attorney can help you receive a greater settlement amount.
Contact a Personal Injury Lawyer
Compile the information taken from the scene, as well as any medical bills and statements showing time off work. Anything related to the scene, including the police report, pictures taken, and names of witnesses will be of use.
Your lawyer will then be able to assist you in building a case and work to get you the full compensation you are entitled to.
If you have been injured in a Missouri motorcycle accident contact the personal injury lawyers at The Hoffmann Law Firm.  We will work to get you the justice that you deserve.
To schedule a free consultation call us at (314) 361-4242
St. Louis Motorcycle Accident Attorney Resources
photo credit: Miguel Pires da Rosa