Imagine your frustration after a car accident when you discover the at-fault driver has no car insurance!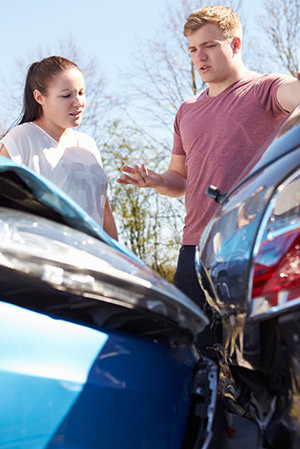 According to statistics, approximately one out of seven drivers on Missouri roads is driving with insufficient or no car insurance coverage. This could have a devastating effect on you if one of these irresponsible drivers were to cause you to have an accident. Contact a St. Louis car accident attorney at our law office if this is the circumstance of your car accident. Our legal team can help assist you to recover your damages.
Under or Uninsured Motorist Insurance Coverage
When an under or uninsured driver causes an accident, compensation for injuries normally is through your own insurance policy. Many car insurance policies have a provision for uninsured motorist protection.  This special under or uninsured motorist coverage is designed for just this type of event. Your St. Louis car accident attorney will be able to go over your insurance policy carefully to find out just how much coverage you have.
In the case of an under insured motorist, the policy limits will generally be exhausted first before other forms of compensation are pursued. You may wonder then, who will pay the remainder of the medical bills. A claim may be filed with your own insurance company to help with the balance of any medical bills. Do not assume that this will be an easy process just because you are a paying client. The insurance adjuster for your own insurance company may be just as ruthless in denying your claim as a defendant's would be.
When You Have to Fight Your Own Insurance Company
This is similar to the case of a Missouri resident who sustained serious back injuries in a low impact rear-end collision. Once the defendant's insurance company paid out the small policy limit, it was up to her own insurance company to pick up the balance of the extensive medical bills the back injury had accumulated. After putting up a fight, the insurance company finally agreed to settle the claim for $150,000.
Getting Help From a St. Louis Car Accident Attorney
These can be frustrating car accident claims to deal with, as you may begin to feel as if following the law was not worth the effort. A competent St. Louis car accident attorney will help ease some of that frustration by helping you obtain the compensation you deserve. Call The Hoffmann Law Firm, L.L.C. at (314) 361-4242 for a free case evaluation.