A car accident can cause a number of injuries, including shoulder dislocation that can result from a strong blow to the shoulder.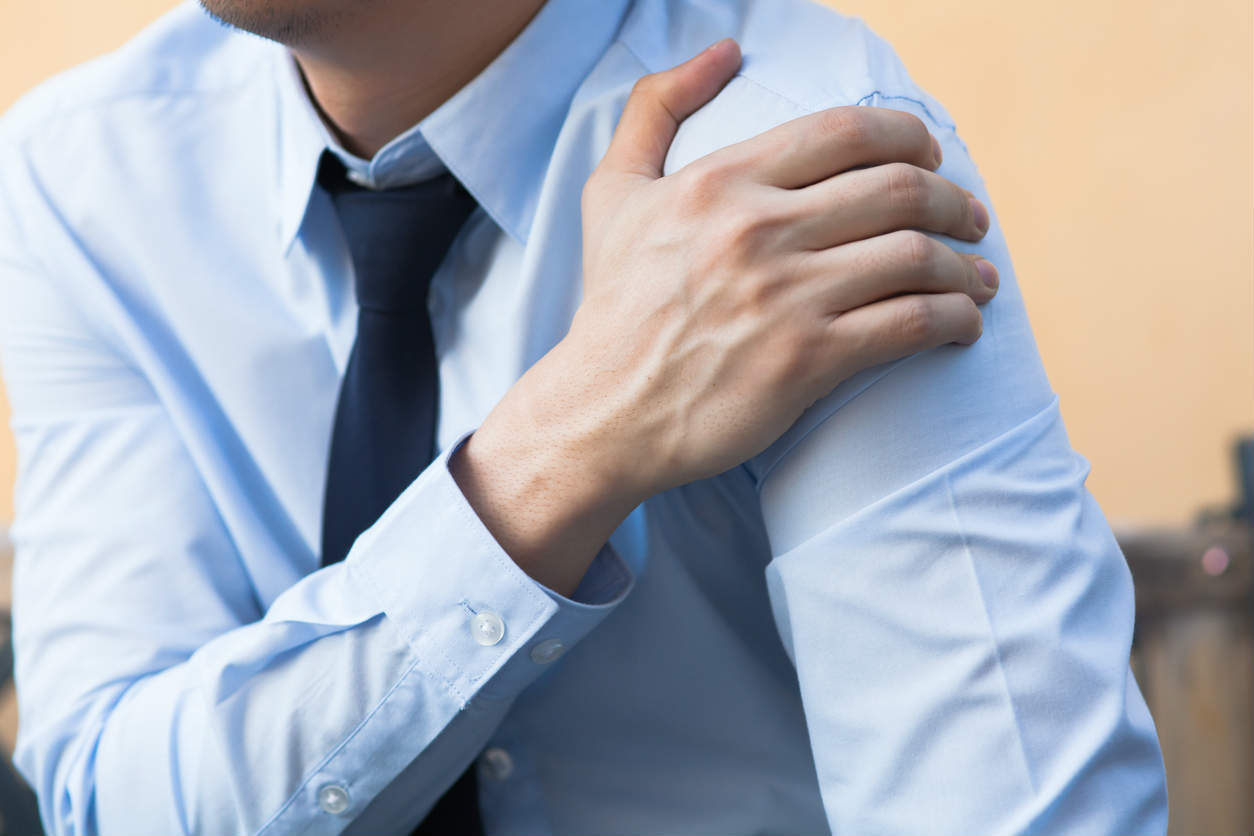 A shoulder dislocation occurs when the head of the humerus bone slips out of the shoulder socket known as the glenoid fossa. Unless one suffers a serious trauma, like in an automobile accident, most shoulder dislocations are unilateral. In this post, our St. Louis car wreck lawyer will discuss shoulder dislocation injuries resulting from car accidents.
Types of shoulder dislocations
There are three main types of shoulder dislocations that can occur when there is a blow to the shoulder.
Anterior or forward dislocation
Anterior dislocation of the shoulder bone is one of the most common types of shoulder dislocations. The anterior dislocation accounts for about 95% of all dislocations, and are mostly caused by a direct blow to an outstretched arm. An anterior shoulder dislocation can be sub-coracoid, under the clavicle, retroperitoneal or intrathoracic.
Posterior or backward dislocation
Posterior dislocations are often caused when a person suffers an electric shock or a seizure. They are also caused if there is a strength imbalance in the rotator cuff muscles. Posterior or backward dislocations, at times can be missed by doctors in an elderly person or a person in coma.
Inferior or downward dislocations
Inferior or downward dislocations are rare and make up only 1% of all shoulder dislocations. Inferior or downward dislocations occur if the humeral head gets pushed up against the acromion, caused due the excessive abduction of the arm. Inferior or downward dislocations cause a number of complications as such dislocation damages many vascular and neurological structures, tendons and ligaments.
Shoulder dislocation symptoms
The most obvious symptom of a shoulder dislocation is acute pain that originates in the shoulder and spreads to surrounding areas like the back, arm, chest and neck. The arm cannot be moved from its position.
A visible distortion of the shoulder is seen and numbness in the affected arm is another symptom of shoulder dislocation. While all shoulder dislocations have no palpable bone in the shoulder area, some dislocations can make the shoulder look boxy.
Complications in a shoulder dislocation
Apart from the actual shoulder dislocation injury, one can experience certain complications as well, depending on the extent of the impact one faces in the car accident.
A fracture in the humeral head is a commonly found complication and is associated with about 25% of shoulder dislocations.
It has also been seen that about 75% of anterior dislocations have a Hill-Sachs deformity in the shoulder.
At times, patients with shoulder dislocations can injure a nerve as a result of the shoulder fracture. A nerve injury often results in numbness in the nerve region. Often nerve injury heal within a few weeks, however, at times, they can affect the strength of the deltoid muscle if it does not heal well.
Older patients with a shoulder dislocation often have a complication with an injury to the rotator cuff muscles, which can be easily missed until the sling is off.
A rare complication resulting from a shoulder dislocation is rupturing or tearing of the axillary artery, the main artery that supplies blood to the arm.
A brachial plexus injury can also be an outcome of a shoulder dislocation.
Shoulder dislocations resulting from a car accident should be treated immediately. Moreover, one can seek legal assistance from a
St. Louis car accident lawyer
to make sure their legal rights are protected.
Call (314) 361-4242
to speak with an experienced attorney a request a free consultation.