A broken back is a debilitating injury that can severely affect a person's daily life.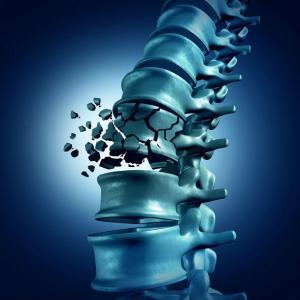 A broken back is also known as a vertical compression fracture, and occurs when one or more of the vertebrae in the spinal column gets dislocated or fractured.
The three different types of back injuries that could cause a broken back include:
Fractures: This occurs when there is more pressure exerted on the bone than it can take. This can cause the vertebrae to break or collapse. If the trauma is serious, it can push the broken bone fragments in the spinal canal.
Dislocation: This occurs when the discs or ligaments that connect two vertebrae are torn or stretched causing the bones to push out of alignment.
Fractured dislocations: This type of injury is a combination of a fracture and a dislocation. A fractured dislocation is an extremely serious type of injury and often requires surgical repair.
Common symptoms of a broken back
When a person suffers a broken back in a car accident, they will likely experience severe back pain along with some other symptoms. While back pain could also result from a less severe injury such as a back sprain, it is always important to seek medical attention right away. Timely treatment could mean the difference between complete recovery and a lifetime of disability. Some common symptoms to watch out for include:
Pain
Tingling
Numbness
Weakness
Muscle Spasms
Stooped Over Posture
Inability to Move
Difficulty Walking
When a person suffers a broken back, the pain will likely increase when the victim tries to walk or attempts to perform even simple movements such as stretching or bending down.
Treatment options for a broken bone
When someone suffers a broken back, the first step should be to immobilize the back in order to prevent any further injury. If the victim cannot receive medical attention right away, they can use over the counter medication to relieve pain and use ice to bring down inflammation.
When the victim reports to the emergency room with a back injury, the doctor may perform a physical exam and order X-rays in order to diagnose the exact problem, and to figure out the best possible course of treatment.
Common treatments for back injuries include:
Bed Rest
Pain Medication
Anti-inflammatory medication
Back Brace
Surgery
For severe back injuries such as those in which there is a risk of bone fragments damaging the spinal cord, surgery may be the best possible recourse. The car accident victim may require physical therapy for an extended period of time in order to regain mobility and strengthen the back.
Seeking legal help after a St. Louis Car Accident
If you have suffered a serious back injury in a car accident, you will likely need expensive and long term treatment. It is therefore in your best interests to seek legal help from a competent St. Louis auto accident attorney, who can help with the costs of recovery. Call The Hoffmann Law Firm, L.L.C. 24/7 at (314) 361-4242 for a FREE and private case evaluation.