What To Do After A Car Accident
If you have been injured in a car accident contact The Hoffmann Law Firm, L.L.C. to answer your questions and help relieve your financial stress.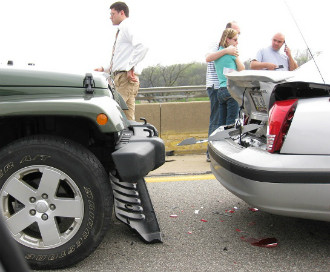 Most car accident victims are in a state of shock after being struck by another car, truck or commercial vehicle. Not knowing what to do, many people wonder "What will happen next?" or "Who can I turn to for help?"
The Hoffmann Law Firm, L.L.C., located in St. Louis, Missouri, will provide answers to your questions and relieve the stress following a serious car or truck accident.
Injured in a Car Accident — What You Should Do?
Every car accident is unique, yet there are some common tips that any car accident victim can follow to ensure the situation is resolved as quickly as possible.
Seek proper medical attention: Unquestionably, the health and safety of you and your loved ones should be your top priority. Seek medical treatment for any injuries sustained as soon as possible.
Avoid discussing the accident and save your apologies: You were just involved in a traumatic event and might not be thinking clearly — limit your discussions to avoid admitting liability. Discuss the accident with the police and your insurance agent only.
Have someone obtain vital information: Get the names, insurance information, phone numbers and addresses of everyone involved in the accident.
Have someone photograph the scene: Many insurers recommend obtaining photos of the accident scene to avoid discrepancies and to obtain accurate evidence.
Have someone take notes: Detailing the nature of your injuries, the damage to your property and anything you find unusual could be very beneficial down the road.
Do not accept initial insurance offers: Insurance companies do not have your best interests in mind. They want your case to go away as quickly and quietly as possible, and typically undervalue the damages accident victims sustained.
Contact an experienced car accident lawyer: Speak to a knowledgeable car accident attorney to discuss your case, learn your options and determine if you are entitled to compensation.

Contact The Hoffmann Law Firm, L.L.C.
If you or someone you love have been involved in a car accident, you no doubt have questions and concerns. Call The Hoffmann Law Firm, L.L.C. at (314) 361-4242 to schedule your free initial consultation. You will speak with an experienced car accident attorney, and you will not pay any attorney fees unless we recover compensation for you.

Updated: