Types of Damages in a Car Accident: Death
Our St. Louis Automobile Accident Attorneys can help you recover compensation for the loss of a loved one.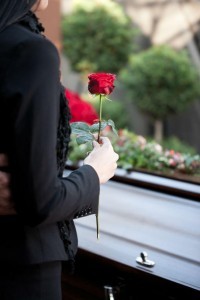 Losing someone you love in a car accident is one of the most painful experiences you might ever have to endure, especially when the accident was caused by another driver's reckless disregard of others on the road. While there is no monetary amount that can replace your loved one, financial compensation for the losses you and your family are enduring can help to ease some of the burdens caused by the sudden death of a close family member.
Our compassionate team of St. Louis automobile accident attorneys is here to help you and your family recover those financial damages so that you can focus on healing from the emotional ones.
While a wrongful death suit falls under the personal injury category, there are complexities and special rules that apply that set it apart. There are also specific damages that may be sought that are not applicable in your typical car accident claim. We will help you sort through the legal standards to determine what damages apply in your circumstance.
Who Can File a Wrongful Death Claim?
Like most states, Missouri has specific rules regarding who is allowed to pursue compensation in a wrongful death suit. The surviving spouse, children, grandchildren, or parent are usually the plaintiffs in a wrongful death claim or a sibling if there is no one else to speak on behalf of the deceased. In cases where there are no surviving family members, a representative of their estate may file the lawsuit or another interested party with the assistance of a court appointed plaintiff ad litem.
What Types of Damages May be Claimed?
There are also specific rules pertaining to the types of damages family members may seek compensation for. Let our team assist you and your family in deciding which ones are relevant in your situation.
The loss of financial support is the first thing you and your attorney will consider. The death of a family member can cause a major financial burden on a family if they were a major financial contributor to the household.
The cost of any medical care that was received by your loved one as a direct result of the car accident.
Funeral costs may also be included in the wrongful death suit in the event that there were no provisions made for them before the accident.
In a wrongful death lawsuit, plaintiffs may also ask to be compensated for pain and suffering. Loss of companionship, guidance, and emotional support would all fit into this category.
In the event that your beloved family member was the provider of child care for at least fifty percent of the time and not employed full time, the surviving parent may ask to be compensated for the cost of child care that they will now have to provide.
When the circumstances of the car accident involved gross reckless behavior a jury is allowed to apply punitive damages to an award amount. Driving while drunk is a good example of gross reckless behavior that is known to contribute to deadly car accidents. Juries will apply punitive damages under these types of circumstances as an additional punishment to the defendant.
St. Louis Automobile Accident Attorneys
The unexpected sudden loss of a family member can leave your household reeling from the consequences for years. No amount of money can make up for the role your beloved spouse, parent, or child played in your life, but financial security will help in easing you through this transition.
Exercise your right to pursue compensation for the wrongful death of a loved one by contacting a member of our legal team today. After the initial consultation, we can take over the legal pursuit of your claim while you can focus on healing yourself and your family.

St. Louis Car Accident Injuries
Updated: