A driver's choice of shoes can impact their ability to drive safely, and may be considered negligent driving if it causes a car accident.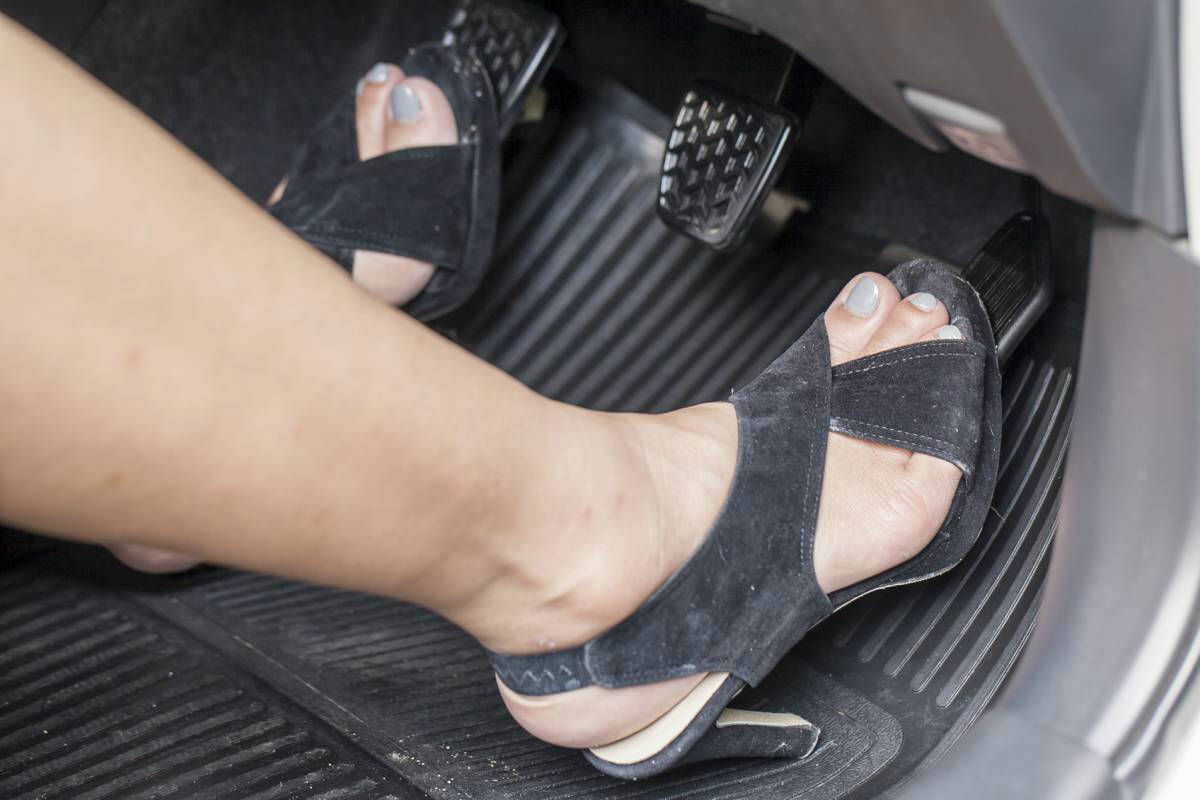 Do you know that some types of footwear are safer for drivers than others? Most of us choose footwear that goes well with our outfit, and we seldom think about how it could impact our driving ability. Driving in certain types of footwear such as flip flops, slippers and high heels can cause a car accident and may be considered negligent driving.
Risk of Car Accident While Driving in High Heels
While high heels may compliment your outfit, you may want to think twice before driving your car wearing them. When driving, you should be able to put firm and even pressure on the clutch or brake pedal to use them effectively. However, high heels are shaped in a way that only the ball of the foot comes in contact with the pedal. This puts you at a higher risk of not being able to press down as firmly, or missing the pedal altogether. The narrow wheel can also make it difficult for you to rest your foot comfortably when covering the brake. This can affect your ability to react quickly in the event of a collision.
Even if you remove your heels and try to drive barefoot or with stockings on, it presents its own risks. Without proper shoes, the foot is unable to distribute even pressure on the pedal. A foot covered with stockings tend to be slippery, and you may not be able to operate the pedal effectively. So, the best thing to do is to carry a comfortable pair of shoes with you to drive in, and you can change into your heels once you reach your destination.
Accident Risks Associated with Driving in Flip Flops
While most of us would believe that heels are the riskiest when it comes to driving safely, the reality is that flip flops, or thong sandals, are more dangerous. It is estimated that nearly 1/3 of drivers drive in flip flops at any given time, and are responsible for over 1.4 million near-miss crashes each year. Flip flops slow the driver's ability to reach the brake, and may get caught underneath the pedal. A driver who wears flip flops takes twice as much time to move his/her foot from the accelerator to the brake as the driver wearing other types of footwear does.
To prevent auto accidents that may result from wearing the wrong type of footwear, you should carry a pair of appropriate footwear such as closed toe, rubber soled shoes that fit securely on the foot. This small step can go a long way in making driving more comfortable and safe.
Contact a St. Louis Auto Injury Attorney
If you or a loved one have been injured to the negligence of another driver, seek legal help from a St. Louis car crash attorney.  At The Hoffmann Law Firm, L.L.C., we will protect your rights, and ensure that you get the rightful financial compensation you need after a car accident. Call us today at (314) 361-4242 or fill out our online contact form.
Car Backing Up Accident
Car Brake Failure Accident
Center Line Car Accident
Chain Reaction Car Accident
Cutoff in Traffic Accident
Defensive Maneuvers Accident
DUI Accident
Eating and Driving Car Accident
Failure to Yield Car Accident
Falling Asleep While Driving Car Accident
Hazardous Conditions Car Accident
Improper Turn Car Accident
Lane Change Car Accident
Left Turn Car Accident
Lose Control Vehicle Accident
Mechanical Failure Car Accident
Merging Accident
Narcotics Car Accident
Negligent Car Accident
Night Time Car Accident
Partial Fault Car Accident
Passing Car AccidentRed Light Car Accident
Right Hand Turn Car Accident
Right of Way Car Accident
Road Conditions Caused Car Accident
Road Debris Car Accident
Road Rage Car Accident
Run Off the Road Car Accident
Rush Hour Car Accident
Selfie While Driving Accident
Shoes Caused Car Accident
Sleep Apnea Car Accident
Sleeping Pills Car Accident
Smartwatch Car Accident
Social Media Car Accident
Sun Glare Car Accident
Tailgating Car Accident
Texting While Driving Car Accident
Weather Caused Car Accident
Wet Roads Car Accident
Winter Car Accident
Wrong Way Driving Accident