The events directly before, during, and after a devastating car accident are usually not clear.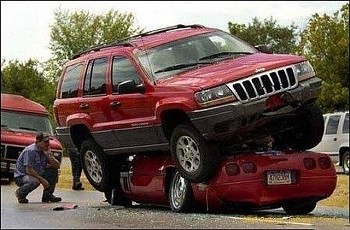 With so much going on, exactly how the car accident occurred and who is at fault may not be immediately evident. It will take the work of an astute St. Louis car accident attorney and modern technology to help you prove that you are not at fault if you have been injured in a car accident. Admitting fault is never easy, and in the case of a car accident the other driver may truly believe that they had the right of way. There is now available advanced computer technology that can assist accident reconstruction experts in showing the events that lead up to a crash.
Using a Car Accident Reconstructionist
A car accident reconstructionist is employed when there is a discrepancy regarding how an accident took place. A collision analysis is done based on as many facts as can be confirmed. In some cases, the light change schedule at an intersection will be obtained. It is a complex procedure involving not just the cars involved and their drivers, but also the roadway, laws of physics, and engineering principles.
The Use of Computer Technology
Computer technology has now enhanced the process to help car accident victims and their families better understand how the tragedy occurred. This is a very useful tool for a St. Louis car accident attorney when presenting evidence for your case. Recently in Missouri, a 3-D computer rendering of an accident helped the family of a young mother and infant child settle a car accident claim.
In this case, the injuries to both the mother and baby were so severe that in addition to employing an accident reconstructionist, the St. Louis car accident attorney also needed the assistance of a medical life care planner to highlight the cost of care for both victims for the rest of their lives.
Building a Strong Case
These types of services are crucial in helping to build a strong claim for a car accident. With so many variables, the defense can easily make a case for partial fault in any situation. Hiring a St. Louis car accident attorney with access to an array of experts to help prove your case is critical if you want to receive your rightful compensation.
There are some things you can do to help build your case as well. If possible, take photos of the scene immediately following the crash. The position of the vehicles can offer a lot of information about how and why an accident occurred. Also try and gather the names and numbers of any witnesses. Their recollections of the events can be very helpful. Lastly, speak with a St. Louis car accident attorney as soon as possible. The longer you wait to build your case, the better the chances that you will lose vital evidence.
With so much technology at our fingertips, it is good to know that some can be used to help those in need of clarification. If you have been injured in a recent car accident, contact The Hoffmann Law Firm, L.L.C. at (314) 361-4242.
Car Accident Lawsuit
Photo credit: stupid.fotos via Flickr