Why Truck Accidents are Complicated
Truck accident claims are generally more complex than car accident claims because interstate trucking is a highly regulated industry.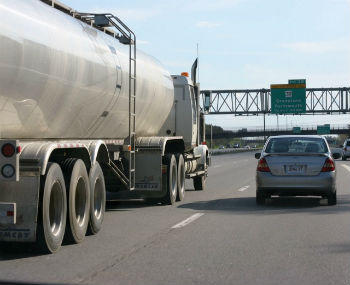 In fact, the government has established a different set of "rules of the road" covering trucks, trucking companies, and truck driver training and conduct. Among other things:
Commercial truck drivers are limited in the number of hours they can drive before they must rest. They are required to keep an accurate logbook that documents this and many other aspects of each trip.
Trucks themselves have weight restrictions, road restrictions and maintenance requirements.
Trucking companies are required to follow federal regulations in hiring, training, scheduling and maintenance. They must transport cargo safely, including proper containment of hazardous materials (HAZMAT regulations).
When these regulations are violated, everyone is at risk and commercial trucking accidents are much more likely to occur.

At The Hoffmann Law Firm, L.L.C. we focus our personal injury law practice on helping the victims of motor vehicle accidents achieve maximum financial recovery. Attorney Christopher Hoffmann has been tackling complicated interstate trucking accident cases for more than a decade. He understands how to investigate these cases and how to get results for injured people and families who have been injured or lost a loved one.
Who Was Really Responsible for the Accident?
In truck accident cases there could be multiple parties responsible for the accident. If you fail to include any of these parties in a lawsuit, you may lose your opportunity to secure the full financial recovery that you need. Attorney Chris Hoffmann thoroughly investigates every case in order to identify every potentially liable party, including:
The truck driver
Truck loaders
The trucking company that hires or pays the driver
The truck owner
The trailer owner
Truck manufacturers
Truck and trailer maintenance personnel
For a more thorough explanation of how some of these parties could be involved in a trucking accident, please see causes of truck accidents.
Contact The Hoffmann Law Firm, L.L.C.
In commercial trucking accident claims, experience matters. To discuss your trucking accident injury claim with an experienced lawyer serving Missouri and Illinois, call (314) 361-4242.  Attorney Chris Hoffmann will speak with you personally. Your initial consultation is always free and you do not pay attorneys fees unless we recover compensation for you.
St. Louis Truck Accident Attorney Resources
photo credit: ReneS

Updated: