Every day, distracted driving kills more than nine people and injures another 1,060 individuals.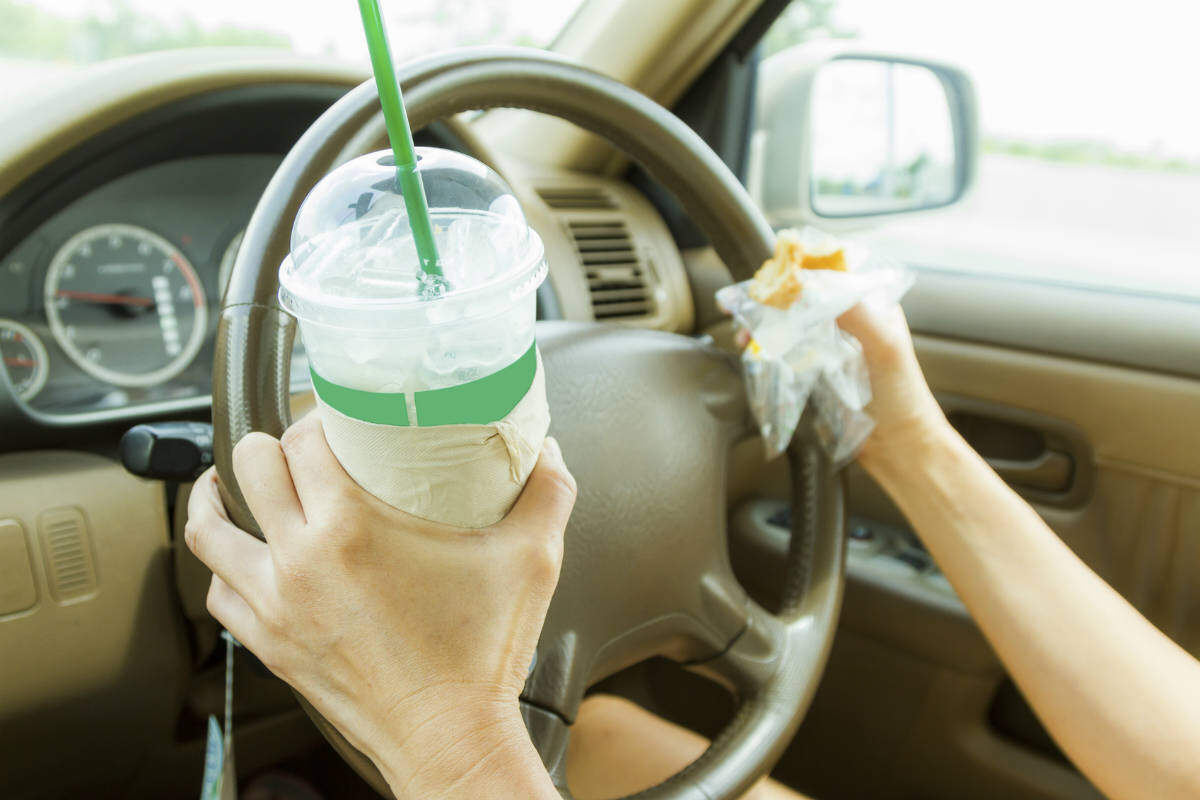 According to the National Highway Traffic Safety Administration (NHTSA), 1 in 5 car accidents that resulted in injuries involved a distracted driver. In recent years, the primary focus associated with the problem of distracted driving been geared towards the habit of texting and driving. Many states have instituted a partial or complete ban on cell phone use while behind the wheel, in an effort to curb distracted driving. To address the problem further, it is important to focus on other forms of distracted driving as well, for example, eating while driving.
Eating While Driving – An Unrecognized Danger
Eating while driving is common. According to the NHTSA, almost 50 percent of drivers eat or drink while driving. However, only 17 percent believe that eating while driving is dangerous. The academic journal Accident Analysis and Prevention also explains that eating while driving is a major source of driver distraction.
Eating While Driving – Why Is it Dangerous?
It prevents drivers from keeping their from hands on the steering wheel, and in some cases, causes the driver to steer with their knees.
It forces the driver to take their eyes off the road.
It prevents the driver from noticing signs of danger on the road, such as changes in road conditions, changing signals, a wrong way driver, or key road signs.
It slows down the driver's reaction time and prevents him or her from making necessary and timely maneuvers in order to avoid a crash.
The risk increases, even more, when the driver who is eating also happens to be intoxicated, inexperienced, or fatigued because then it is more likely that the driver would have impaired judgment.
Avoid Distracted Driving
One simple way that a driver can avoid eating while driving is to avoid drive-through restaurants. Although these eateries are convenient, eating and driving causes serious distraction and puts you in harm's way. Eating and driving can cause serious accidents that lead to severe injuries and even death. The distracted driver not only puts his or her own life in danger but also that of the other drivers they are sharing the road with. (Learn more – Save Lives, Avoid Distracted Driving)
Auto Accident Injury Law Firm
If you have been injured in an accident caused by a driver who was eating while driving, contact our auto accident injury attorney to get help with your claim. We will help you recover adequate compensation for your injuries and other losses. Call The Hoffmann Law Firm, L.L.C. at (314) 361-4242 for a free consultation.

Updated: