Nerve Damage Attorney St. Louis
Our St. Louis car accident lawyers can help you get compensation for nerve damage resulting from another driver's negligence.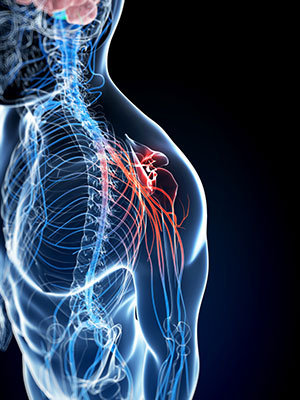 The painful symptoms of nerve damage following a car accident often don't present themselves until the next day. This can cause problems for the victim of a car accident who was injured when a negligent driver struck their vehicle. Our firm can help in these instances where the injury you sustained was not diagnosed immediately after the crash.
Your body is full of nerves that are an essential part of your body's central nervous system. They are responsible for your bodily movements, sensations, and thoughts. Nerve trauma occurs when the surrounding area becomes fractured, crushing the nerve. This results in either a pinched or severed nerve which can produce pain, numbness, or a complete loss of feeling and movement.
The total extent of the damage and your recovery will depend on the location of the nerve involved and the severity of the trauma. Nerve damage from a car accident will generally occur in one of three ways:
Blunt Force Trauma
This is when your head, legs, torso or arms hits a hard surface in a car crash. Usually associated with hitting the steering column or the back of a front seat, blunt force trauma can also occur if the car accident victim is thrown from the car.
Whiplash
Whiplash is an isolated type of nerve damaged that occurs at the base of the victim's neck. When a car is hit from behind, even at a low speed, the impact will cause the victim's head to jerk forward and back with great force. Not only does this damage the nerves in the neck, it will also cause swelling of the surrounding muscle and tendons. Whiplash injuries are one of the most common that our legal team sees.
Lacerations
Deep cuts from a car accident can sever or harm the nerves in the surrounding area. The treatment of nerve damage varies and in some cases is not much more than pain management and rest, as the swelling around the nerve begins to go down. In some cases physical therapy or surgery are need to help correct the problem. Your physician will help you choose with type of treatment is best to help with your nerve damage.
St. Louis Nerve Damage Attorney
Regardless of the type of nerve damage and treatment you receive, the negligent driver should be held responsible for the payment of your medical treatments, and in certain cases compensation for pain and suffering.

The St. Louis car accident attorneys at The Hoffmann Law Firm, L.L.C. can assist you by proving that the injury was a direct result of the car accident. This will help to prove medical damages, an important component of a car accident claim or any other claim of personal injury. Call our offices today at (314) 361-4242 and set up an appointment to discuss the details of your case.

Updated: