St. Louis taxi accident victims deserve to be compensated if they were injured due to the negligence of another driver.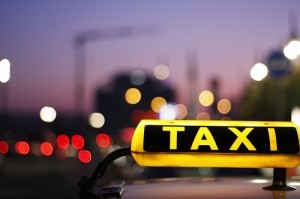 While the prevalence of taxi-cabs may not be as high in St. Louis or Kansas City as compared to other big cities, you will find them on the streets transporting people around the city. While most cab drivers are respectful of their passengers and drive cautiously, car accidents involving taxis are sometimes inevitable. If you were injured while riding in a cab and the driver was behaving recklessly, you are entitled to compensation for your injuries.
Recovering Compensation in a Taxi Accident
Recovering compensation from a taxi-cab accident is not usually cut and dry. The driver could be working on his own, or as an independent contractor renting from a fleet. He may even work for a taxi company, however, they may still list him as an independent contractor to save money on workers' compensation benefits. Whatever the case may be, speaking with a qualified attorney is the first step towards receiving compensation for your injuries and losses.
After figuring out whom, if anyone, the taxi driver was working for, a car accident attorney will likely take a hard look at the driver's record. Many taxi cab accidents are the result of distracted driving or a driver who was exhausted from working too many hours. The state of Missouri requires that cab drivers have a Class E license, so that will also be verified. No stone should be left unturned as your attorney investigates the cause of the accident and the driver who was responsible for it.
If handled right, you will receive your rightful compensation when injured in a taxi cab accident. Just as a St. Louis couple did when awarded $175,000 by a jury after a ride in a cab. One of them sustained a broken foot after the cab crashed while transporting them. Such a sizable award for a relatively minor accident shows the importance of diligence on the part of an attorney in investigating the true cause of the crash.
St. Louis Taxi Accident Lawyer
If you are ever involved in a similar scenario you should try if you can to obtain as much information at the scene as possible. Use your cell phone to take photos of the crash as well as the driver's credentials as well as the license plate of the cab. Look for witnesses to the accident and ask for their name and phone number. All of these details could come in handy during your lawyer's investigation.
Taxi companies and their insurance companies will try and avoid a lawsuit. Take care not to speak to any of their representatives unless your lawyer is present.
Anytime you are injured in an auto accident while riding as a passenger, whether it be a taxi or your friend's car, you should contact a qualified car accident lawyer to find out if you are entitled to be compensated for your medical bills. You should not be held responsible for a debt that was incurred as a result of another party's negligence.
If you have been involved in a St. Louis taxi accident, contact an attorney at The Hoffmann Law Firm, L.L.C. We can evaluate your case for free and begin conducting a thorough investigation of your accident. Call us at today at (314) 361-4242 or contact us via our Online Contact Form.
photo credit: zak mc via Flickr