According to the National Highway Traffic Safety Administration, there are an average of 228,000 car accidents in school zones each year.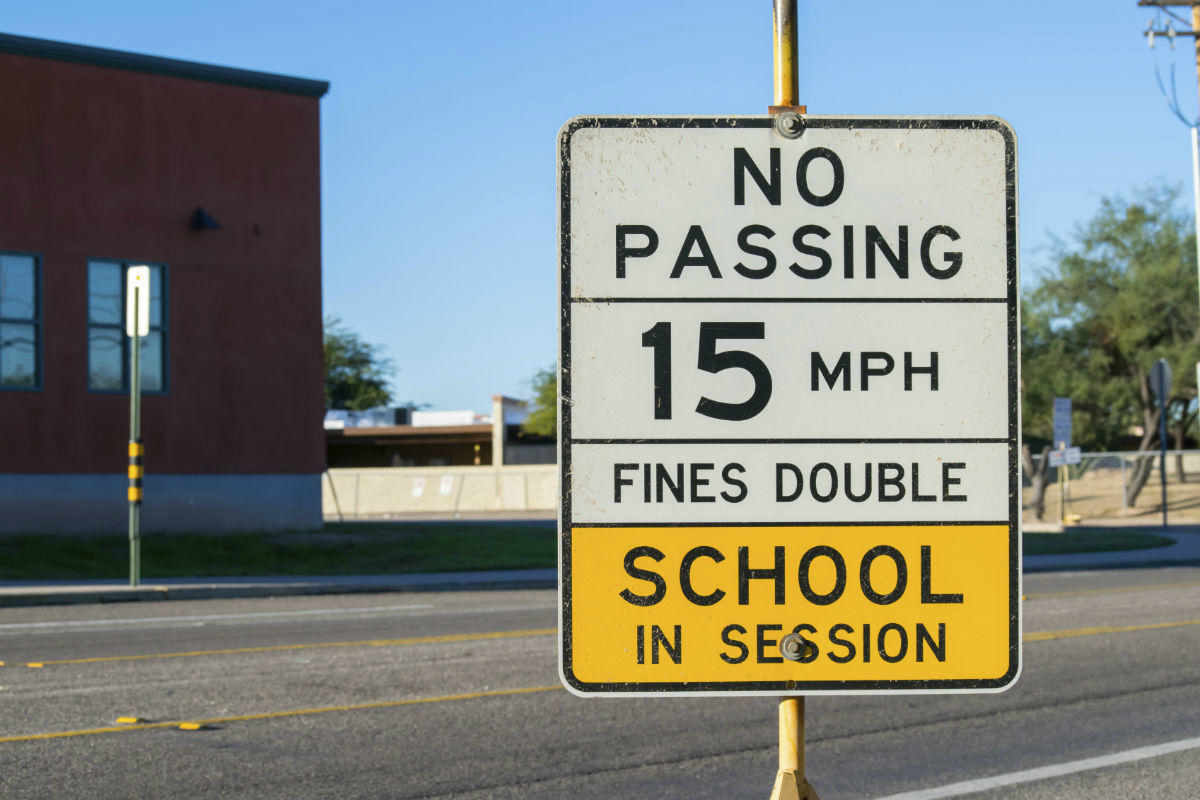 The majority of these accidents are caused by negligent driving or violation of the traffic rules for safe driving in school zones. For example, traffic laws mandate that every motorist drive the posted speed limit for a school zone and yield to school buses with flashing stop signs and/or an extended stop arm. However, some drivers do not follow these safety rules because of distracted driving.
Driver Distractions in School Zones
Driver distraction in a school zone is common in one out of every six drivers.
19 percent of female motorists are distracted while driving in a school zone, compared to 15 percent of male motorists.
Around 9.8 percent of motorists use some kind of mobile device while driving in a school zone.
Around 4.4 percent of motorists drink, eat, and/or smoke while driving in a school zone.
Looking behind or reaching for an item inside the vehicle is a leading cause of driver distraction in school zones. Around 1.9 percent of the drivers make this mistake.
Applying makeup or personal grooming distract 9 in every 1,000 motorists driving through a school zone.
Reading while driving distracts 3 in every 1,000 motorists while driving through a school zone.
Flashing lights help reduce drivers' distraction in school zones.
Driver distraction is more common in congested school zones.
The Lives of Children at Risk
When a driver passes through a school zone without putting his or her full attention behind the wheel, the lives of others, especially children, are put at risk. While traffic laws require every driver to give the right-of-way to a school bus, some drivers simply do not follow the rule.
Common Traffic Signs in School Zones
There are many different traffic signs that you should look out for when driving in a school zone. Here are some of the most common ones:
Speed Limit Signs
 These signs tell you the maximum speed limit you should be driving in a school zone, usually 15mph or 25 mph. It's important to obey the speed limit because speeding is one of the leading causes of accidents in school zones.
School Crossing Signs
These signs are usually found near crosswalks and indicate that there may be pedestrians crossing the street. Be sure to yield to pedestrians and give them the right of way.
Stop Signs
As you probably know, stop signs tell drivers to come to a complete stop before proceeding. Stop signs are usually found at intersections, but you might also see them in school zones.
Yield Signs
Like stop signs, yield signs are also located at crosswalks. However, instead of coming to a complete stop, you need to slow down and yield to pedestrians.
Crossing Guard Signs
These signs let you know when a crossing guard is on duty. If you see one of these signs, be sure to follow the crossing guard's instructions.
Children Playing Signs
As the name suggests, these signs warn drivers of children playing in the area. Be extra careful when driving in areas with these signs because children can be unpredictable and may dart onto the road unexpectedly.
School Bus Loading Zone Sign
These signs let you know when there is a school bus loading zone nearby. Be sure to stop your car and yield to the school bus when you see this sign. On the same point, avoid passing a stopped school bus that's loading or unloading children.
No Parking Signs
School zones often have "No Parking" signs to indicate areas where parking is not allowed. Be sure to obey these signs, so you don't block traffic.
St. Louis Car Crash Lawyer
The above statistics show how important it is to avoid driver distraction. When driving through a school zone, be cautious and alert. Unfortunately, despite taking all precautions, you may still be involved in a car accident. Speak to a St. Louis car crash lawyer to understand your legal rights.
Free Consultation with a St. Louis Car Accident Lawyer
Don't talk to an insurance claims adjuster before speaking with The Hoffmann Law Firm, L.L.C. We can help you avoid making statements that may affect the outcome of your case. The consultation is free; you don't pay unless we get you money!
Free Consultation (314) 361-4242
---
Updated: