Distracted driving, such as texting and driving, is a leading cause of car accidents not only in Missouri but in the United States.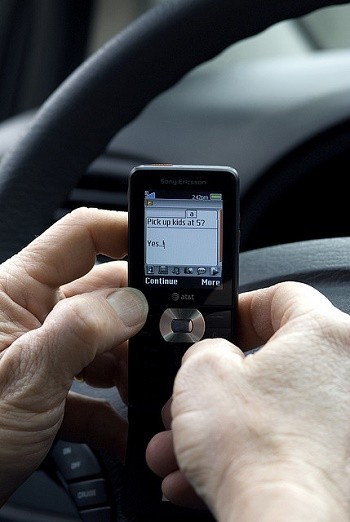 According to The National Safety Council, each year distracted driving causes as many as 200,000 motor vehicle accidents. Considering the seriousness of the issue, lawmakers are pushing a ban on texting and driving for all age groups. Right now, the law prohibits those under the age of 21 years to text while driving.
Distracted Driving Month
On April 15th, 2014, lawmakers in Missouri participated in an event where they had an opportunity to get a firsthand experience of the dangers associated with texting and driving. In a simulated exercise, lawmakers were made to try driving while texting to illustrate the dangers associated with texting while driving. Most lawmakers fared quite badly and crashed several times. One of the lawmakers, Mike Kehoe, who got hit after just three minutes said, "I ended up getting hit by another car while I was trying to answer a question about what kind of pizza I like. So, it really does help prove the point".
Distracted Driving and Car Accidents
Talking of distracted driving, texting or emailing is not the only distraction that causes motor vehicle accidents. There are several other things that may distract a driver and lead to accidents. Missouri car accident attorneys believe that it is important that authorities address the issue of distracted driving in general, and not just isolated causes such as texting and emailing.
We all understand the dangers of texting and driving. It is known to everyone that distracted driving can cause serious crashes that can lead to injuries and even death. Still, distracted driving is going on unabated, and many people are losing their lives in the crashes caused by distracted drivers. Other electronic devices such as handheld GPS also distract drivers and cause serious crashes. It takes away the driver's attention from the road and increases the chances of a crash.
Safe Driving Habits
Other electronic devices such as music players, iPods, and tablets distract drivers leading to accidents. So, the crux of the matter is that anything that takes your eyes or attention off the road can not only put your life at risk but can also endanger the lives of others traveling on the road. Here are some tips from an experienced Missouri car accident lawyer on safe driving habits:
When you are driving, avoid paying attention to any other thing or activity, however important it might be.
Beware of distracted drivers and drive defensively.
If you must text or use GPS, pull over and then use it.
Do not speak on the phone, not even using a Bluetooth device.
Do not read, eat, or apply make-up while driving.
Do not drive under the influence of alcohol or drugs, or when you are drowsy.
If you have become a victim of a distracted driver, please call The Hoffmann Law Firm at (314) 361-4242 for a free consultation.

Photo credit: Oregon Department of Transportation via Flickr

Updated: