Nearly 1.5 percent of fatal car accidents involve wrong way drivers. Wrong-way accidents occur more often than you think.
We have all heard about car accidents involving drivers who somehow end up on the wrong side of the interstate or highway, driving against traffic. While it is difficult to understand why someone would do this, it does happen. According to the Federal Highway Administration, each year 300 – 400 people are killed in wrong-way driving accidents. Nearly 1.5 percent of fatal car accidents involve wrong way drivers. Wrong-way accidents occur more often than you think.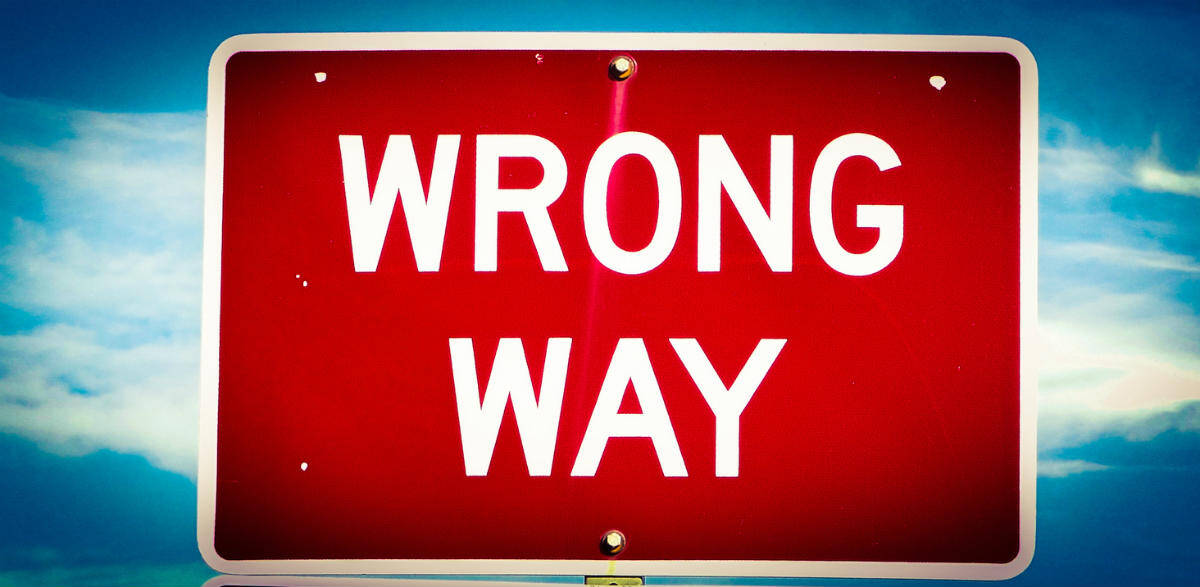 The National Transportation Safety Board reports that there are over 260 wrong way accidents reported across the United States every year resulting in at least 360 fatalities. It has been proven that accidents caused by vehicles being driven on the wrong side of the road are more severe than other types of accidents, resulting in severe injuries.
Wrong Way Car Accidents Statistics
Normally, in case of most wrong way driving accidents, the driver almost immediately realizes the mistake. Such accidents are tragic and can be fatal. They are usually more severe, and often involve several vehicles and more impact damage.
Wrong way drivers are responsible for about 3 percent of all crashes.
75 percent of all wrong way accidents are caused by drunk drivers and 50 percent peak around 2 a.m.
Half of all wrong way car accidents disable or kill a person involved in the crash.
Wrong way drivers have more traffic violations, other accidents and felony convictions compared to the average driver
Wrong-way accidents are becoming more common although the overall fatal crash rate has come down considerably.
Causes of Wrong Way Car Accidents
A confused driver or someone who is unfamiliar with the streets in a new town or city is most likely to cause a wrong way car accident. Some other common causes include:
Driving while intoxicated
Distracted driving, especially texting
Driving under the influence of drugs, illegal or prescription
Poor lighting at night, foggy weather or heavy rains that obscure signage
Missing or misplaced road signage
Falling asleep while driving and crossing the median
Confusion in a construction zone
Passing a vehicle and not getting back into the proper lane
Faulty steering or another auto defect that causes the car to cross into the opposite lane of traffic
In some cases, the victim makes evasive maneuvers to avoid a head-on crash and in the process crash into other vehicles, pedestrians or objects.
Avoiding a Head-On Collision
If you find yourself facing a wrong way vehicle coming in your lane, take evasive measures to avoid a head-on collision, even if you have to drive off the road. Listed below are certain tips to help you take the best course of action if an incoming vehicle strays into your lane.
Immediately slow down and be prepared to stop your vehicle or even to pull off onto the shoulder if the situation arises.
If you are required to make a split-second decision to avoid a head-on collision, always veer towards the right as the other driver will move towards your left (i.e. his right) and a collision may be avoided.
Try to keep at least two wheels on the pavement when you go right on the road while avoiding a head-on collision. This will decrease the force of impact and the severity of the collision will be less.
It is always safer to hit a stationary object than a vehicle coming at you from the opposite direction. The combined force of both the vehicles makes the accident more serious.
Always wear your seat belt. It is a law across all states and in case of a head-on collision, it can mean the difference between life and death.
Liability in a wrong way car accident
Wrong way drivers are generally held liable for all the damages resulting from the crash. If driving under the influence of alcohol or drugs, police will check their blood alcohol content. If the driver refuses the test, the police can get a search warrant issued and forcibly do the test in a felony DUI case. If the driver was distracted at the time of the crash, he/she will likely have to pay all the damages resulting from the crash. In case the wrong way crash was a result of an auto defect such as a faulty steering system, the designer or manufacturer may be held liable for all the resulting losses.
St. Louis Car Wreck Law Firms
If you ever come across the wrong way driver, try to avoid an impact, pull over, and call the police. If you are injured in a crash, talk to a St. Louis car wreck lawyer to protect your legal rights. Call The Hoffmann Law Firm, L.L.C. at (314) 361-4242 for a free consultation.