Car accidents do not just occur on highways and roadways; parking lots can be a breeding ground for accidents.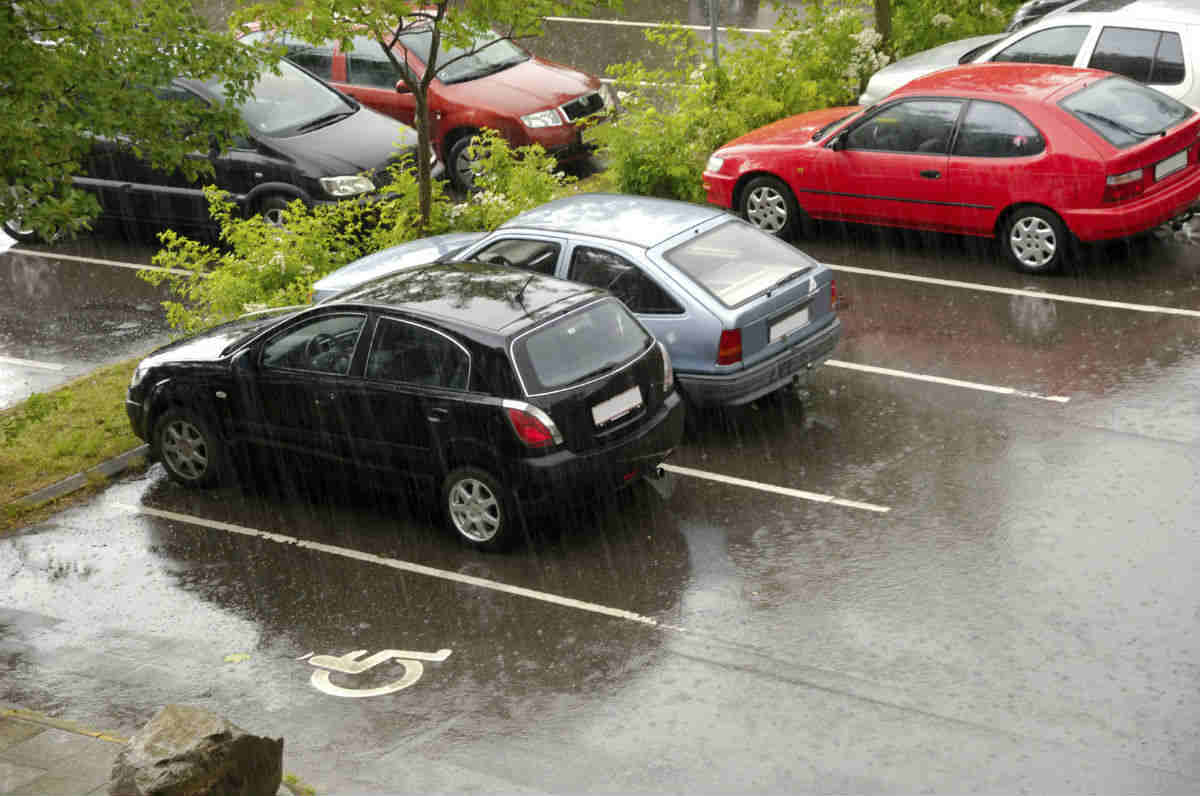 Backing out of a diagonal parking space can be a challenge, even for skilled drivers. It is often difficult to see oncoming vehicles, pedestrians, and other obstacles. There are no special rules that apply to parking lot accidents, and in most cases, these accidents occur on commercial parking lots where there is no traffic law enforcement and proper signaling.  Courts and insurance companies look to the law of negligence to determine who is responsible for the accident and who should pay for any resulting injuries and property damage.
According to the Insurance Institute of Highway Safety (IIHS), around 20 percent of all motor vehicle accidents in the U.S. happen in commercial parking lots. Most of these accidents are minor fender benders, but in some cases, these accidents have caused severe injury and even death, especially when pedestrians are involved.
Determining Fault in a Parking Lot Accident
A person is deemed negligent when he or she has a duty of care and this duty of care is breached, resulting in injury or property damage to another person. When it comes to driving, a driver has the duty of care to drive in a manner a responsible person would do under similar circumstances. For example, if a person is driving through a commercial parking lot at a speed of 20 miles per hour and texting while driving, the driver may be breaching the duty of care owed to other drivers and pedestrians in the parking lot by putting others at a higher risk of injury. If an accident occurs, the person may be responsible for providing financial compensation to the victim.
When Both Drivers Act Carelessly
In many cases, accidents happen because two drivers act carelessly or negligently. For example, the person in the above example crashes into a vehicle backing out from a diagonal parking space and the other driver fails to look for oncoming vehicles before backing out. Both drivers may be considered responsible for the crash.
The state of Missouri recognizes the legal doctrine of "comparative negligence", in which a person who is partially responsible for his or her injuries may recover damages in proportion to the at-fault person's degree of fault. However, Missouri does not recognize the doctrine of "contributory negligence", in which a person may not recover any compensation if he or she is even slightly responsible for the accident.
St. Louis Car Accident Attorney
If you have been injured in a parking lot accident, contact a St. Louis car accident attorney for legal help. Call The Hoffmann Law Firm, L.L.C. at (314) 361-4242.
Parking Lot Accident Resources
Doing Your Part to Prevent a Parking Lot Accident
Fender-Bender in a Parking Lot? Do Not Drive Away Yet!
Parking Lot Accidents – St. Louis Car Accidents
Parking Lot Accidents Involving Pedestrians
Parking Lot Accidents: Pinned Between 2 Vehicles
St. Louis Car Accident Attorney – Who Pays for a Parking Lot Accident