There are special circumstances to consider if you are involved in a car accident in a parking lot. Do not automatically assume responsibility and keep reading for further instructions.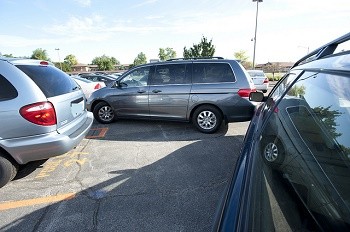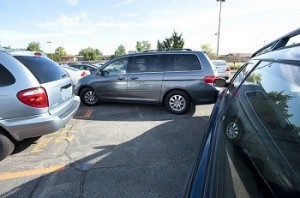 A parking lot is a likely place for a car accident. Cars are continuously in motion, drivers are pulling in and out of parking spaces, and people are walking in and out of stores, walking in the path of cars. Car accidents in parking lots are generally fender benders; the resulting damage is usually not serious and any bodily injury is usually minimal and minor. However, these types of car accidents should not be taken lightly; the police should be called and the accident should be reported to your insurance company.
What To Do After the Car Accident
When you are involved in a car accident, regardless of where the car accident happens, follow these steps immediately after the accident.
Pull the cars away from the traffic area and into a safe zone.
If you are not able to move your car, switch on the emergency flasher lights and exit the car.
Speak to your fellow passengers and check if anyone is injured. Call for medical assistance if someone is injured.
Call the police as well as your insurance company and report the incident.
If you have a phone with a camera, take pictures of the place of the accident, damage to cars and any injuries sustained.
Exchange names, contact details, and insurance information with the other driver.
Look for any witnesses to the accident and take note of their names and contact details.
Make a detailed note of the time, date, location, weather conditions, and parking lot conditions.
Call an experienced St. Louis car accident attorney if you are injured or if someone has sustained serious injuries.
Determining Who Is At Fault For the Car Accident
Determining who is a fault for a car accident in a parking lot may be quite difficult. Many parking lots are private property and there are no set laws for determining fault. The drivers involved in the car accident may end up having a heated argument about who is at fault. This is why calling the police is so important; this helps in establishing the facts about the accident. The police officer will be able to establish if a driver was driving recklessly or under the influence of alcohol or drugs. If the accident occurs on private property, the police officer may not file a report. Therefore, you should take careful notes of all the details of the accident.
Reporting the Car Accident to the Insurance Company
The next action to take is to report the car accident to your insurance company. The insurance company will investigate the damage to your car as well as the other vehicle. Based on the report from their insurance adjuster, they will establish the cause of the accident and determine who is at fault. Speak with a St. Louis car accident attorney before speaking to the insurance adjuster.

Call a St. Louis car accident attorney immediately after the accident. The attorney will explain your legal rights and help you receive the proper compensation for your injuries and damages. Contact The Hoffmann Law Firm, L.L.C. at (314) 361-4242 for a free consultation.

Updated: