Missouri is a beautiful place to live or visit. This means that Missouri highways are highly trafficked.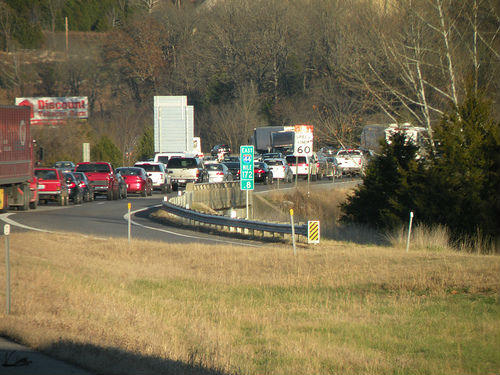 Travelers passing through, tourists, commercial vehicles, visitors, and Missouri residents all share the roads. Unfortunately, heavy traffic means that the likelihood of an accident has increased. Drivers can practice safe driving habits and be very cautious, but accidents still happen. In Missouri, Highway 44 is likely to be an accident site.
When an accident is caused because of someone else's negligence, it is important that you contact a Missouri auto accident attorney who can help you to hold the responsible parties accountable for their actions and obtain the compensation for any vehicle damage or injuries you sustain in the crash.
Missouri Car Accident Statistics
The Missouri State Highway Patrol reported the following statistics in regards to Missouri accidents last year:
There was a total of 142,966 car accidents.
There were 786 fatalities that resulted from these accidents.
This comes to a total of one car accident death every 11 hours.
There were 51,060 individuals who suffered injuries in car accidents.
This amounts to an injury from a car accident every 10 minutes.
On average, a motorcyclist is injured or killed on Missouri roads every 3.9 hours.
Causes of Missouri Auto Accidents
The leading cause of auto accidents in Missouri is speeding. Speeding accounts for about 38.2 percent of fatal crashes and 17.3 percent of the total number of auto accidents.
Another major contributing cause of fatal auto accidents is drunk driving. Drinking and driving caused 26.8 percent of fatal crashes, according to the report. Drinking and driving contributed to the cause of 4.4 percent of total accidents in Missouri. Motorcycles were involved in 1.8 percent of Missouri auto accidents. But because motorcycles offer less protection to riders, 80 percent of motorcycle accidents result in personal injury or fatality.
The same is true of car accidents involving pedestrians. These accidents are far less frequent, accounting for a very small percentage of total accidents. But these accidents are very likely to result in significant personal injury or wrongful death for pedestrians when they do occur. About 91.2 percent of these cases are fatal or result in injury.
Missouri Auto Accident Attorneys
If you have been involved in a car accident, you need an experienced Missouri car accident attorney to advocate for you and to look out for your best interests. Insurance companies will try their best to minimize your claim and take advantage of you if you are not represented by an attorney who understands the true value of your claim.

In order to receive the full compensation to which you are entitled from insurance companies or any negligent parties whose actions contributed to causing the accident, you should contact the Missouri car accident lawyers at The Hoffmann Law Firm, L.L.C. as soon as possible.

At The Hoffmann Law Firm, L.L.C. we will work to build a strong case right from the start so you can receive the maximum compensation you are entitled to. Call us today at (314) 361-4242 or fill out our online contact form to schedule a free consultation.

photo credit: KristinNador

Updated: